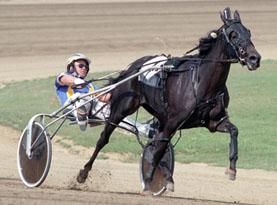 eternal camnation
Election Into Living Hall of Fame:
Record:
p,2,1:52.3s; 3,1:51.1; 4,1:49.4; 5,1:49.2
Biography:
Eternal Camnation ranks as the leading moneywinning pacing mare of all time, the third-leading moneywinning pacer of all time, and the tenth-leading moneywinning Standardbred of all time. Bred by Lew Arno and Fred Hertrich III of All American Harnessbreds from the last crop of Hall of Fame Immortal sire Cam Fella, Eternal Camnation was foaled on April 3, 1997 in Belle Meade, New Jersey. In 1998, under her original name of Allamerican Coin, she was purchased at Harrisburg for $35,000 by Jim Hardesty of the Jeff Miller Stable in Haviland, Ohio. The sale took place on the same day as that of fellow 2011 Living Horse Hall of Fame Inductee Gallo Blue Chip. Ownership transferred to the Jeff Miller Stable and Dorothy Miller in May 2000. Trained by Jeff Miller and most often driven by Eric Ledford, Eternal Camnation raced from 1999 to 2004 and has a lifetime record of 101-47-18-5.
In 1999 Eternal Camnation finished second in her first race but went on to win her next twelve consecutive freshman contests, culminating with a Breeders Crown victory and both the USTA and Canadian (O?Brien) Two-Year-Old Pacing Filly of the Year awards. During her 2000 sophomore season, "Cammie" won the Fan Hanover, Jugette and Bluegrass Stakes as her earnings topped the $1 million mark. As a four-year-old in 2001, Eternal Camnation won the Lady Liberty, her second Breeders Crown and the Milton Stakes. With her triumph in the final of the Roses Are Red Pacing Series, Eternal Camnation made history by becoming the richest distaff pacer ever. She finished the year a nose shy of $2 million in lifetime earnings and was voted 2001 Pacing Mare of the Year in both the U.S. and Canada.
In 2002, five-year-old Eternal Camnation won her second Roses Are Red Pace and Milton Stakes, again receiving U.S. and Canadian Pacing Mare of the Year honors. She would win the last nine straight races of her 2003 season, including her third Breeders Crown and Milton Stakes as well as the Classic Distaff. That year she set the world record for five-year-old and older pacing mares on a five-eighths mile track and earned $908,346, bringing her lifetime earnings to over $3 million. For the third time, she was voted Pacing Mare of the Year in the U.S. and Canada and also won Canada's 2003 Horse of the Year award. Eternal Camnation's richest victory in 2004 was her Classic Distaff win. She garnered her fourth consecutive Canadian Older Pacing Mare of the Year award and retired with $3,748,574 in lifetime earnings. In 2005, Ontario's Mohawk Raceway instituted the Eternal Camnation Stake, a two-year-old filly pacing event.
"Cammie" is currently performing broodmare duties for Eternal Camnation Stable in Ohio. Since her breeding career began in 2005, she has produced four fillies and one colt.